Gambling Guide
Gambling VIP Home
Free Casino Bonuses
Gambling Reviews #1
Gambling Reviews #2
Gambling Reviews #3
High Roller Guide
High Roller Bonuses
High Roller Comps
High Limit Blackjack
High Limit Baccarat
Other Site Pages
Contact Information
Gambling Disclaimer
Articles of Interest
History of Bingo
What is Bingo About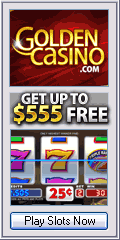 What is Bingo About
What is bingo? Bingo is a game of chance that is totally random in nature. The game has been played for centuries, and the first games took place in 15th century Italy. The forerunner of today's 90 ball bingo games is also of Italian origin, and evolved from a holiday game known as Tombola. Since most people have played bingo at one time or another, it is extremely rare to hear someone ask: what is bingo?
The American version of bingo was invented in the late 1920's by New York toy salesman Edwin S. Lowe. The American version uses a card with a 5X5 grid and 75 numbered balls. As the numbers are called players mark their cards. During the first bingo games players used beans to cover the card numbers but these were later replaced with disks and modern daubers. Typical winning card patterns are horizontal, vertical or diagonal. Special card patterns may also be used. For the Christmas tree pattern is especially popular during the holiday season. Once the player has a winning pattern they call 'bingo' and the game is over. An attendant checks the card to make sure it is a winner and pays the player. This is just a short primer on bingo history, but you can find more detailed coverage in BingoHouse's news section.
In the United States, bingo is closely associated with churches, veteran's groups and charities. Commercial bingo halls are a relatively new phenomenon in the United States, and most are operated by Native American tribes. There are also several commercial bingo operations in Las Vegas. Last year, several gaming operators in Las Vegas announced plans to remodel their bingo halls and increase their seating capacity.
If a players asked 'what is bingo' in the United Kingdom, they would be shown a much different game than the American version. In Great Britain, 90 ball bingo is the most common game, and is also known as 'housie.' There are huge commercial bingo halls throughout the UK, and there is hardly a village or hamlet without its own High Street bingo hall. Several bingo chains dominate the business in the UK including operators such as Mecca and Gala. Bingo became a big business during the postwar years in the UK, and by the late 60's was an ingrained part of British culture.
In the late 90's, bingo went online, and the rest is history. Today there are about 400 bingo sites competing for players. Most bingo sites offer players very generous bonus schemes and other player perks and incentives.